Funny but with
all the political stories bouncing around my favorite mainstream EconBlogs (Brad DeLong and AngryBear) and the constant repetition in the press that gas is under $2/gal., nobody thought to mention that NYMEX oil prices are
back up above $40/barrel
.
US crude futures eased on Friday following the rise of more than $1 from the previous session, but remained above $40 a barrel on concerns about further terrorist activity and the potential for supply disruptions.

IPE Brent for August delivery fell 32 cents to $37.45 a barrel in early morning London trade, after the $1.16 increase on Thursday. August Nymex WTI fell 32 cents to $40.08 a barrel in electronic trade following a $1.25 rise in the previous session.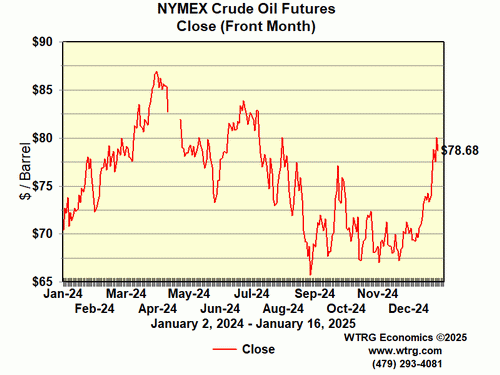 The reasons for the hike are not only on the supply side, either.
On Monday
the General highlighted this side of the equation: another attack on Iraqi pipelines; the impending bankruptcy of Russian oil giant YUKOS; and news that OPEC may not boost its quotas on August 1 as promised after all. There's a good deal of movement on the demand side as well.
Crude futures surged on Thursday following a rise in the growth rate of US gasoline consumption in the latest weekly US commercial crude inventory report.

The Energy Informational Administration, the statistical arm of the US energy department, said in its weekly report that US petrol demand over the last four weeks has averaged nearly 9.3m barrels a day, or 0.9 per cent above the same period last year, and almost double the average growth rate in recent weeks.

The EIA said total petroleum product supplied over the last four-week period has averaged nearly 20.5m b/d or 3.4 per cent more than averaged over the same period last year, with demand for jet fuel running at almost 8 per cent above the year ago figures.
Recall that the world is pretty damned close to maximum production right now. Only Saudi Arabia has any meaningful spare capacity to throw into action. The
IEA estimates
global oil demand at 80.6 mb/d for 2004:III and 82.6 mb/d for 2004:IV. Non-OPEC supply is pretty much fixed in the short-term (quarter-to-quarter) at about 50 mb/d. OPEC's "sustainable production capacity" is estimated to be 30.6 mb/d -- and that's including Iraqi production. Do the math and you're looking at supply and demand being exactly equal for the third quarter, but demand far outstripping supply in the fourth.
Now throw some electoral politics on top of this fire. Bush has built up the Strategic Petroleum Reserve considerably over the last year or so but has refused to release anything from it, even in the face of very unpopular pump prices. Looking at the IEA data, however, it makes sense for Bush to hold off on using the Reserve until the fourth quarter when [1] global demand is predicted to significantly outstrip global supply; and [2] by sheer coincidence there happens to be some election or something in the United States.